Eight Things You Should Know about Teaboxes
1. Introduction
I love this scene in Big Bang Theory. But I'm with Sheldon--mixing bags is ludicrous!
Incidentally, I think the teabox they used in The Big Bang Theory was this one, although they laser engraved the word TEA to the lid afterward.
Regardless of what you think about tea mixing, we can all agree that there's a lot to say about tea boxes, so let's get to it!
2. The History of Tea Boxes
It's safe to say that when most of us think of "a cuppa tea," our minds immediately envision our ole British chaps across the pond. And while it's true that England's love of tea has been steeping since sometime in the 17th century, the origin of tea actually belongs to China.
Let's take it back to around 2732 B.C. (nearly 5,000 years ago) when, as ancient legends claim, Emperor Shen Nung accidentally discovered the concept of tea when a few leaves of a nearby Camellia sinensis tree (now known as the green tea tree) were blown into a pot of water he had been busy boiling. The herbal aroma that arose with the steam from the pot caught the emperor's interest. So, he took a sip. And the rest is history-tea.
Whether or not the tale of the emperor is true, we do know for sure that by 722 B.C. the Chinese were brewing more than just plain green tea leaves. They had begun incorporating other flavors into their brews, such as ginger root, scallions, cornelian cherries, and citrus rinds.
Tea didn't reach Europe until the early 1600s, and also didn't kick off its official import into England until the following 60 years. The tea trade found itself in particularly hot water a little more than one-hundred years later when the Boston Tea Party broke out. It was on that day that some of the earliest versions of tea caddies were thrown overboard, now deep-sea caddies.
The most famous teaboxes were probably the ones tossed into the Boston Harbor.
3. The Different Types of Tea Storage
Back in the 17th century when tea was first making its overseas debut, it was often contained in what were called "tea caddies," typically made of Chinese porcelain. Other caddy designs were sometimes made of brass, pewter, and silver. But toward the onset of the 18th century, woodworkers introduced the first tea box prototypes.
Those tea boxes were far more complex than the tea boxes in today's market. Traditional tea boxes held either metal or wood canisters that sealed off the loose tea leaves to keep them fresh. Nowadays, most of the dominant tea brands like Twinings, Tazo, or Lipton sell teabags in paper pouches and cardboard boxes. The problem with all the paper packaging is minimal preservation…which is where tea boxes come in!
If you've ever purchased loose tea before, it's likely that it came package in a metallic tin of some sort of resealable pouch. Alongside wood tea boxes, metal canisters are your next best bet as they do a great job of keeping your tea away from all the damaging effects of air, humidity, and light exposure.
Whether it be loose tea or bagged, keeping your tea dry is most important as unwelcomed moisture will ruin your tea while also introducing a host of water-borne bacteria. Light is also rather ruinous to most tea types. Prolonged exposure to light can cause your tea to degrade in both aroma and flavor, so it's vital to store it in a dark location, which wood tea boxes are precisely designed to do.
4. Tea Box Dimensions
The standard tea bag pouch dimensions are either 3 inches all around, or 3" by 2.5." As you'll see demonstrated in the above diagram, our wood tea boxes are 3.5 inches in height to accommodate for any larger craft tea bags. With adjustable interior, you can slide in and slide out the compartment dividers to create a custom arrangement for your assorted tea bags. The full dimensions of our Multikeep wood tea boxes are: 12.5" long, 7.5" wide, and 3.5" high.
Of course, we store our tea bags in one of these boxes too and can vouch that at least 100 tea bags fit comfortably within.
5. Personalized Tea Boxes
On our website, which view with easy access through this link, you can check out all of the beau-tea-ful lid designs we offer on the bamboo tea box of your choice.
Or you can custom order a tea box with a lid engraving of whatever text you'd like by selecting our "Type Whatever You Like Classic Filigree Multikeep Box"
If you've got a steady hand and a creative mind, you could also trying creating your own DIY design by hand. Just order a Blank Lid Multikeep Box and start thinking about how you're going to personalize your tea box lid design.
This DIY tutorial we found on YouTube might be a good place to start:
6. Tea Box Gift Set Idea
Here's a great idea we've seen a number of customers do for weddings or Christmas.
Buy 10 (or 20 or however many you want) boxes of your favorite teas wherever you normally shop.
Pick up some wood teaboxes from us, perhaps personalized with gift recipients names.
Stuff each box a mix and match collection of the teas.
Our tea boxes are good for personal use, but they also make great gift ideas. Whether it be as a housewarming present, Christmas, a birthday, or frankly any other occasion, a tea box gift set is an incredibly thoughtful gesture.
And they don't have to just include just tea—be imaginative! A customized tea box stuffed with the recipient's favorite tea types and even some additional teatime accessories like a tea ball strainer, tea scoop, or honey spoon/stirrers can take it up a level. Heck, you could even pair this tea box gift set with a new mug!
Have your bamboo box personalized for the recipient by requesting to have their name or monogram engraved onto the lid. Or perhaps you have an inside joke or specific memory together that you'd like to note on top of their tea box instead. Either way, just throw your text into the "Type Whatever You Like" box prototype field and we'll do the rest.
7. Today's Top Tea Subscriptions
Did you know you can arrange to have tea shipped automatically to your doorstep each month with custom arrangements tailored to your tastebuds? These tea boxes are not like the ones we sell, because they're subscription boxes and not storage containers for your teas. But our bamboo tea boxes sure will come in handy when your new shipment arrives every 30 days to keep your tea fresh until the next box arrives.
We've narrowed down a complete list of the top 10 best tea subscription boxes, priced low to high, for you to sip on:
Dollar Tea Club (Cost: $1 per month plus shipping) Within each monthly subscription box comes three new types of loose tea for you to try. If you end up falling in love with one of the samplers, you can purchase that tea type off of the Dollar Tea Club website, outside of any other binding subscription. Again, these teas are loose, so you'll need to get your hands on some sort of tea ball or infuser.

Simplicity Teas (Cost: As low as $9 per month) For less than $10, you'll be subscribed to "the mini box" which includes two new tea samplers per monthly box. In the box is loose tea packaged in a baggie which makes approximately ten cups of teas, and a vial form of storage which makes between six and eight cups. That's eighteen cups per box!

Plum Deluxe (Cost: As low as $10 per month) In this $10 bundle, Plum Deluxe will send you one ounce (between 15-20 cups) of loose tea exclusive to club members and not available anywhere else on their site, a second sample of a loose tea available for purchase in their store, a complementary steeping guide, access to their tea lover's online community forum, and coupon codes only provided to members.
Respyre (Cost: $11.99 per month) In their monthly box, Respyre sends their subscribers two types of loose tea: one will always be a morning blend, and the other herbal. Respyre brands focuses a lot on the health and wellness side of tea, so each box also comes with a guide on the benefits of the teas selected for you that month, along with a handwritten note.

Simple Loose Leaf (Cost: $14.96 per month) With Simple Loose Leaf, you can pick your poison each month! They give you four box options to choose from in order to get a better sense of your palette—the sampler, herbal, black, or green tea. In either of those four boxes, you'll have 4 loose leaf baggies shipped to your door every month. Each baggy contains enough tea to make 6 to 7 cups per bag. And with you first box, you'll also receive four complementary cotton filters to steep with.

BlendBee (Cost: As low as $15 per month) BlendBee gives you the initial option to choose between selections of caffeinated, decaffeinated, or mix and match for you monthly boxes which will include two bags of loose tea according to your preference. You'll never get the same bag more than once either, which ensure that every box is a new experience. Along with those two loose tea blends, you'll also receive a reusable muslin tea bag with every box.

Sips By (Cost: $16 per month) You'll be asked to take a quiz upon subscribing to your box with Sip By, so that that can build a custom flavor profile for you to ensure the four tea brands and flavors don't disagree with your palette. Sips By also guarantees that their teas are strong enough to re-steep after your first cup.

The Whistling Kettle Tea of the Month Subscription (Cost: As low as $16 per month) Upon your first order, The Whistling Kettle will send you 10 disposable steeping bags. With the basic box, which is the lowest priced option for their subscription service, you'll receive 4 different types of loose tea to try. The Whistling Kettle Tea prides itself on having these boxes curated by people with over fifteen years of tea-tasting expertise.

Art of Tea (Cost: $18 per month) After deciding between the desired length of your subscription (3, 6, or 12 months), Art of Tea gives you five different packages to choose from, so you have some say in what your box might look like. These varying packages consider your favorite tea types, and whether you prefer loose or bagged.

Tea Sparrow (Cost: $20 per month) Each 6-month subscription from Tea Sparrow includes four pouches of loose tea every month—black, rooibos, green, and herbal—with can make around 35 cups per box. Of course, each tea flavor changes with every box, but the fixed categories of tea types in your subscription make it easy to know what to expect while also exploring new blends.

8. Free, Printable Tea Bag Labels For Your Teabox
Here's an additional tea-source (resource) for our crafty tea lovers out there. Have a peek at some of these printable tags that you can stick onto the tails of your tea bags for a more accessorized tea-drinking experience. Many people find comfort in tea for its meditative experience. With the calming effects of certain herbs like chamomile and lavender, a cup of tea often encourages a sense of mindfulness and tranquility. Tea tags with daily mantras can be good prompts for settling the mind when you feel like brewing a bag from your bamboo tea box. Here are links to some of our favorite printable tags: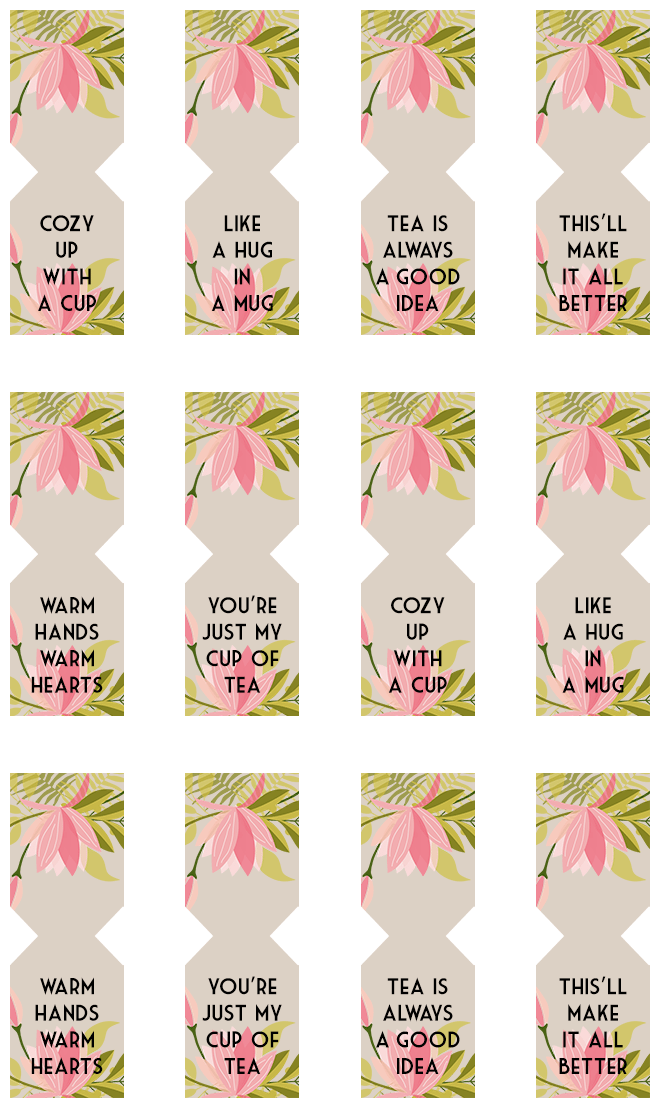 Conclusion
There's quite a lot to cover with teaboxes, so here's a quick summary of the different sections: