4x6 Recipe Box - Initial Gourmet Black
98.7%
of items ship same day if ordered by 2pm Eastern.


Monogrammed Recipe Box - Customize with your Family Initial
This monogrammed recipe box is truly unique. Not only does it have a cover of elegant black leather, but it features a window in which can be inserted any of the 24 script-style letters included with the box. So, if you are giving the box to somebody in the "Jones" family, it can have a nice fancy "J" on it. Letters "X" and "Z" are not included.

Alternatively, you can cut out a family photo to use in the window (2 1/2" square)- or, just leave it at "Recipes" (as shown).

Regardless of how you choose to customize this monogrammed recipe box, you'll have a clean, classy, black leather recipe box that will match any kitchen. (And the darker color will more easily hide the odd vanilla extract spill!)

• 12 printed dividers labeled: Appetizers/Hors Doeuvres | Breads/Grains/Pastas | Eggs/Dairy | Seafood | Meat | Poultry | Soups/Salads | Vegetables/Fruits | Sauces/Dressings/Gravies | Microwave Recipes | Casseroles | Pastries/Desserts
• 40 4" x 6" matching recipe cards
• Padded, hinged lid
• Genuine bonded leather
• Dimensional on-lays
• Additional matching recipe cards available separately.
• Included recipe cards won't work with Matilda's Fantastic Cookbook Software, but they are lovely. You might want to pick up some of our blank recipe cards if you are going to use our software to fill this up, and then just use the 40 included cards for writing notes.
• See also matching recipe book that goes with these recipe boxes
Click here to view our extensive recipe card selection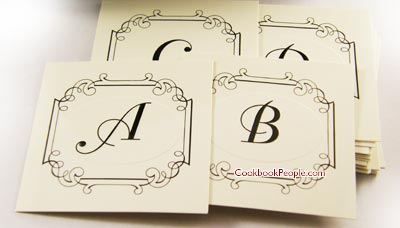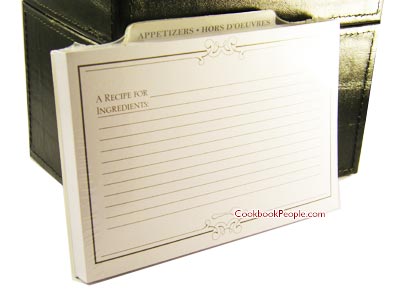 Personalize it!
Easily add a name or title to your recipe box or binder for just a few dollars more. Learn more about personalizing your recipe box or binder.
Customers who bought this also bought